Easiest Way to Prepare Yummy Sweet Potato and Goat's Cheese Samosa
Cheese
- 27 July 2019, By admin
Sweet Potato and Goat's Cheese Samosa.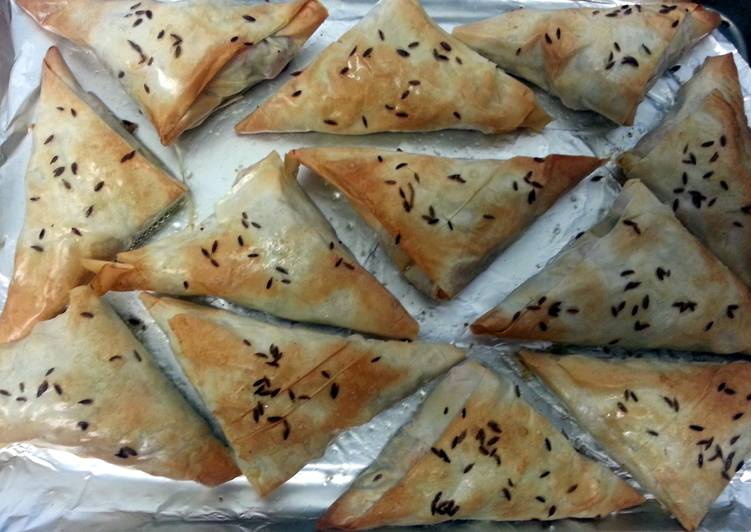 You can cook Sweet Potato and Goat's Cheese Samosa using 12 ingredients and 7 steps. Here is how you cook it.
Ingredients of Sweet Potato and Goat's Cheese Samosa
It's 400 grams of sweet potato (cut into small cubes).
Prepare 200 grams of goat's or feta cheese (cut into small cubes).
It's 1 of whole red chilli (finely chopped).
Prepare 1/2 tsp of dried chilli flakes.
It's 1 tsp of cinnamon powder.
It's 2 tbsp of finely chopped coriander.
You need 3 clove of crushed garlic.
Prepare 3 of spring onions (chopped).
You need 1 tsp of toasted cumin seeds (crushed).
It's 270 grams of fresh filo pastry.
You need 125 grams of unsalted butter.
It's 1 dash of rock salt and cumin seeds to sprinkle on pastry.
Sweet Potato and Goat's Cheese Samosa step by step
Place the potatoes into a saucepan covered with water and some salt. Bring to the boil, simmer for approx 6-8 minutes until they become tender. Drain into a colander and allow to cool..
Now add the goat's cheese, spring onions, coriander, garlic, fresh red chilli and crushed cumin. Lightly season with some salt and mix well. Set aside..
Pre-heat oven to 200C.
Melt 125g butter. Lay a sheet of filo pastry onto a clear work surface and brush the sheet with melted butter. Place a second sheet on top to fit exactly over the first..
Now cut the filo pastry into strips approximately 5cms wide, then spoon enough filling into one corner of the strip. Fold the right corner of the strip over to the left side to create a triangle. Continue to fold triangle along the strip until you reach the end and cut off any surplus pastry..
Brush the samosas liberally with butter and sprinkle some rock salt and cumin seeds on the top side of the samosas. Bake in the oven for approx 12-15 minutes, until pastry is cooked and golden..
Inspired by tv chef :p.
Easiest Way to Prepare Yummy Sweet Potato and Goat's Cheese Samosa
|
|