Easy Garlicky Cheddar Biscuits w/Self-Rising Flour. Self-Rising Flour Biscuits are the easiest biscuits you will ever make! Self Rising Flour No Shortening Recipes on Yummly Easy Drop Biscuits & Garlic Cheddar Biscuits.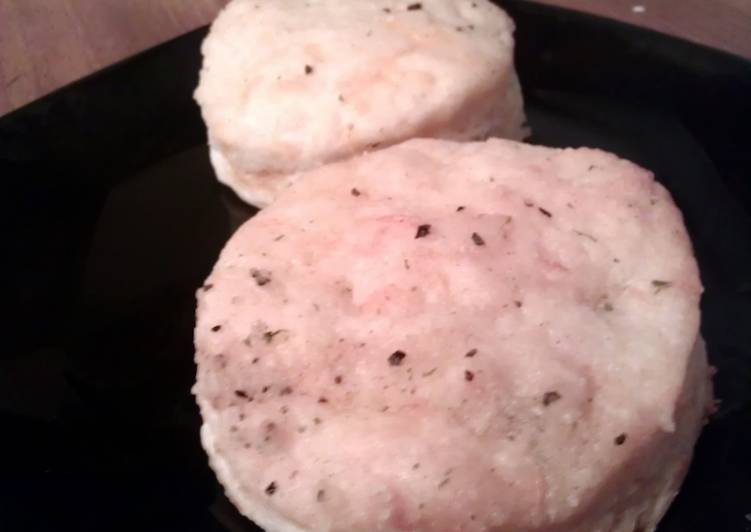 Here is the quick breakdown of the steps before we jump into the step by Self-Rising Biscuits. Easy self-rising biscuits are the comfort food of carb lovers everywhere. They're perfect as a side or part of a main dish for every meal of the day. You can cook Easy Garlicky Cheddar Biscuits w/Self-Rising Flour using 9 ingredients and 13 steps. Here is how you cook that.
Ingredients of Easy Garlicky Cheddar Biscuits w/Self-Rising Flour
It's of topping.
You need of butter, melted.
You need of of garlic powder.
It's of Mrs. Dash Garlic & Herb Seasoning.
Prepare of biscuit.
It's of shredded cheddar cheese.
You need of milk.
You need of cold butter, cut into small pieces.
Prepare of self-rising flour.
To test out their self rising flour, I had to make their recipe for easy self-rising biscuits! The recipe is super easy, resulting in some delicious, flaky. Self-rising flour has a slightly shorter shelf-life than regular flour because being exposed to the flour, salt, and air, the baking powder begins to lose its effectiveness. Mix up self-rising flour in smaller batches and store it in an airtight container in a cool, dark place.
Easy Garlicky Cheddar Biscuits w/Self-Rising Flour step by step
preheat oven to 425°F.
add cold butter pieces to flour, cut into flour until crumbly (I start with a pastry cutter, but then use my hands, and just rub the butter and flour between my fingers).
add 1/2 C milk, mix together, adding more milk if needed, until mixture pulls from side of bowl and sticks together.
add cheese, mix well (it's easier to mix this in with your hands to be sure the cheese is evenly distributed) keep mixing until all/most of cheese sticks in dough, instead of falling back into bowl.
roll dough out flat, approximately 1/2 – 3/4 inches thick.
cut biscuits from dough, either using biscuit cutter or an upturned glass, repeat steps 5 & 6 until theres only enough dough left for one biscuit, shape by hand & add to others (this one will be the ugly- I mean, 'rustic' biscuit, lol).
place cut biscuits on baking sheet about 1" apart, bake until tops are nicely browned (this took approximately 12 minutes in my oven).
while biscuits are baking, add topping ingredients together in a bowl, stirring well. (this should smell VERY garlicky, and ingredients can be adjusted more or less to your taste).
once biscuits are done, remove from oven and immediately brush tops of biscuits with garlic butter mixture, repeating until it's gone. (make sure you get the herby bits from the bottom of the bowl while brushing! don't leave them behind!).
as soon as they're cool enough to handle, eat & enjoy!.
Notes: *this recipe is great for people with egg allergies! – – *even the two pickiest eaters in the house loved these, so they should be a hit as long as garlic isn't a problem ;-).
Caution: if your family loves biscuits, or you're serving more than 4, you might want to double (or triple) this recipe… I got 9 biscuits from this, and with 3 adults eating, we only had 2 left!.
Notes II: I adapted this recipe from a recipe I found on the King Arthur Flour website for plain Self-Rising Flour Biscuits..
Self-rising flour combines soft wheat flour with baking powder and salt, so all Nothing beats a homemade biscuit but if you're looking for shortcuts, try using self-rising flour. A quick and easy biscuit recipe flavored with garlic powder and oozing with sharp cheddar (adapted from the Davis Baking In a large bowl, whisk together the flour, salt, garlic powder, and baking powder. Cut in the cold butter using a fork or pastry cutter. This is a very old, very easy biscuit recipe for those times you don't have a second to waste. The simplicity of the dry ingredients is what makes this biscuit recipe such a winner: It's just self-rising flour… Self-rising flour is flour that has leavening added to it.