Lactose Free Mango Cheesecake. You'd Never Guess This Mango Cake Is Lactose-Free. For all those lactose-intolerant, this one's for you. Garnish the top of the cake with the rest of the mangoes. #SpoonTip: I decided to shape the mangoes into a rose, but there are endless possibilities of how you can decorate it.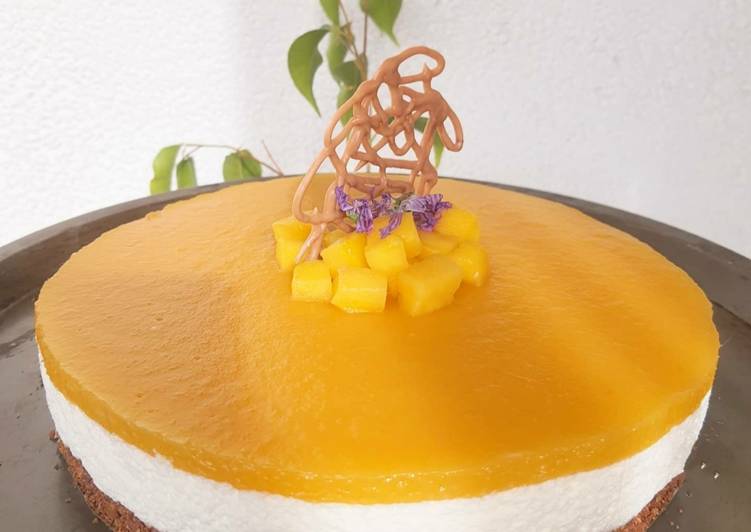 Ingredients This mango pudding is simply the best. And it's also one of the easiest to put together. What makes it extra good is the fact that it is made with coconut milk instead of whipping cream or regular milk. You can have Lactose Free Mango Cheesecake using 19 ingredients and 13 steps. Here is how you achieve that.
Ingredients of Lactose Free Mango Cheesecake
You need of Base.
You need 150 gr of chocolate biscuits (any lactose free brand).
It's 3 spoons of lactose free butter.
You need of Cream cheese.
You need 250 of philadelphia lactose free cream cheese.
You need 250 ml of lactose free fresh cream.
Prepare 3 spoons of icing sugar.
Prepare 1 of soy yoghurt (small standard size).
It's 2 spoons of lemon juice.
Prepare 3 sheets of gelatin/ 1/3 tea spoon of agar-agar.
It's of Top coating.
It's 1 of mango (medium size).
It's 2 spoons of honey.
Prepare 3 spoons of lemon juice.
You need 2 sheets of gelatin or 1/4 tea spoon of agar agar.
You need of Decoration.
You need of Some pieces of mango.
You need of Dried Malva flower.
Prepare of Any kind of chocolate.
Scoop out the flesh of the mangoes & puree it in a food processor or blender until smooth. Add this mixture to the mango in the processor/blender, then add the coconut milk & process briefly until ingredients are combined. This mango cheesecake (a raw cheesecake) has a coconut center, macadamia crust and mango topping. It's tropical, delicious and gluten-free This delicious Gluten Free, Dairy Free, Vegan No Bake Mango Cheesecake with a Mango Passion Fruit glaze is the ultimate tropical healthy summer dessert!
Lactose Free Mango Cheesecake step by step
Use a springform pan and put parchment paper around the inner side of the pan (taller than the pan) Tips: if you dont have springform pan, use disposable alumunium round mold, cut in 4 symmetrical points and re-attach the divided part with tape in the outer side, until it makes a perfect round shape put parchment paper along the inner side (taller than the mold).
Melt 3 spoons of butter.
Crush biscuits inside a plastic bag until it has homogenous texture. Mix well the crushed biscuits with 3 spoons of melted butter.
Put the mixture of biscuit into the mold. Spread and press well with glass/silicone spoon until it's flat and compact. Put this the mold inside the fridge for 30 minutes..
Put 3 sheets of gelatin in cold water.
Put 250 gr of philadelphia cheese to a bowl and stir it with spoon until it's soft. Add soy yogurt, 3 spoons of icing sugar and 2 spoons of lemon juice. Mix well..
Heat the cream for 3 mins. Take out gelatin from water, put in the cream and mix well. Mix well the mixture of the cheese and the cream with mixer..
Take out the mold from the fridge and pour the mixture to the mold. Put in the freezer for 20 mins..
Put other 2 sheets of gelatin in cold water.
Cut mango into cubes, put apart some small cubes (10 small cubes should be enough) for decoration. Blend mango juice, 2 spoons of honey/sugar, and 3 spoons of lemon juice..
Heat the mango juice for 3 mins. Put the gelatin inside mango juice and mix well.
Pour the mango mixture onto the mold. Put in the fridge for at least 2 hours.
After 2 hours put out the cake and put pieces of mango in the center or other decoration element (I put some mango cubes, malva flower and chocolate piece) and slowly take out the parchment paper. Put back in the fridge for at least 30 minutes. To be served while cold..
This mango cheesecake is raw and dense – set with gelatine leaves and at the base it The result is a mango-filled cheesecake for the hot summer days. And the best thing is that it requires no baking (just some What a gorgeous little dessert! Lactose sensitivities won't stop me from trying this one haha. The Lactose-Free Yogurt Cheesecake recipe out of our category Cheesecake! No bake, No gelatin CheesecakeSpice up the Curry.