Cheesy chicken and broccoli pasta. For this easy mac and cheese recipe, you'll need How to Make Chicken and Broccoli Pasta. Boil pasta according to the package instructions. Creamy cheesy shells are swirled with broccoli and hearty bites of chicken for a dish that's sure to satisfy!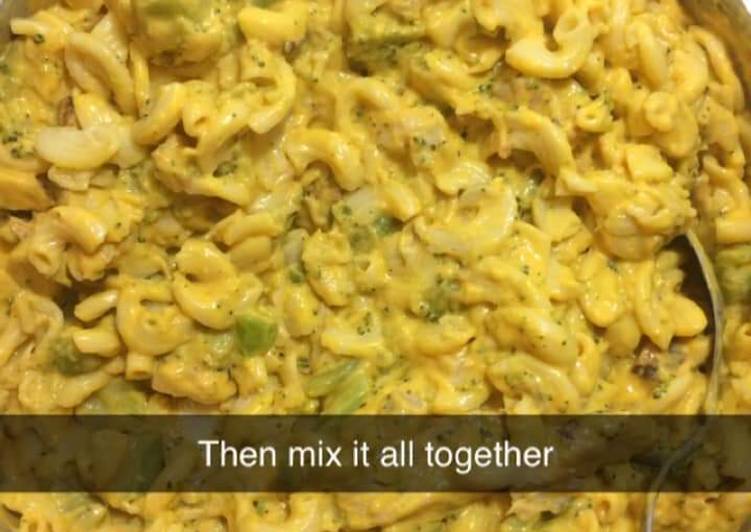 This baked cheesy chicken and broccoli pasta recipe is another easy dinner dish my family absolutely loves. In fact, my kids actually cheer when I tell them we're having this for dinner. While I would appreciate this enthusiasm on the nights I make something that's a little more work than this but. You can have Cheesy chicken and broccoli pasta using 4 ingredients and 6 steps. Here is how you cook that.
Ingredients of Cheesy chicken and broccoli pasta
You need of Frozen broccoli.
It's of Frozen chicken already cooked.
Prepare of Ragu cheese sauce.
Prepare of Pasta.
These are like the chicken and broccoli version of good ole' Rissoles! Serve this for dinner with crusty bread slathered with butter and a side salad. Or put out a platter with a dipping sauce as a starter to share! It's back to school time at our house!
Cheesy chicken and broccoli pasta instructions
These are your ingredients. You can swap out the noodles for rice. No set amount just add 1 cup each for like 1-2 servings and go from there. Dont like so much broccoli add more chicken. There was not any measurements listed. This would be a recipe for me and my daughter. I'd probably make 2 cups cooked pasta, 1 cup broccoli, 2 cups chicken and 1 cup sauce and see how it turns out..
First cook the noodles or rice as directed on the box..
Then add your warmed already cooked chicken to the pot..
Then add the broccoli if you dont like broccoli omit it then.
Last add your liquid cheese sauce. Stir and warm the mixture on medium heat till it is warmed through and you are ready to serve. On snapchat the girl just loaded the pictures. I forget her name but just know this is NOT my recipe. I am just sharing with you..
Enjoy..
My daughter Abby started on Monday, my husband Geoff started Tuesday, and my little Lizzy started yesterday. I'm really excited to get back to our usual routine after a summer of chaos and constantly changing schedules. Cheesy Pasta with Broccoli and Chicken. Boil pasta in plenty of salted water as per packet instructions. Remove pasta and broccoli, and drain.