Creamy pesto pasta with camembert bacon and chicken. Made with cream, parmesan, chicken, bacon and garlic. I've been crowned the Queen of Creamy-Without-Cream*, but today I'm dethroning myself temporarily just so I can share this Creamy Chicken and Bacon Pasta with you without an inkling of guilt. Here's what you need: bacon, boneless, skinless chicken breasts, salt, pepper, garlic powder, onions, garlic, spinach, milk, fettuccine, pesto, parmesan cheese Cook until the chicken is no longer pink, then remove from the pot and set aside.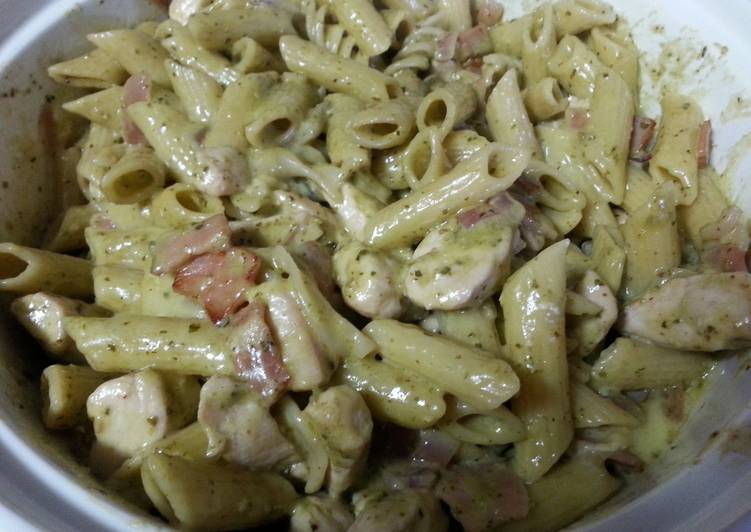 Camembert Mac and Cheese with Bacon and KaleChef Sous Chef. I'm such a sucker for creamy pasta dishes so this chicken and pesto pasta is one of those easy recipes that Add your chicken to the skillet and cook until browned and cooked throughout. (I just cut open my This is really good! I added some bacon as well and it really paired nicely with the chicken. You can have Creamy pesto pasta with camembert bacon and chicken using 13 ingredients and 15 steps. Here is how you achieve it.
Ingredients of Creamy pesto pasta with camembert bacon and chicken
You need 400 grams of penne/pasta.
You need 2 large of chicken breasts cut into bite size pieces.
You need 8 slice of bacon chopped.
Prepare 1 medium of Red onion chopped.
You need 1 clove of garlic minced.
Prepare 1/2 cup of Basil pesto.
You need 300 ml of heavy cream.
You need 1/4 cup of white wine.
You need 1 cup of Reserved water from pasta.
It's 250 grams of Camembert cheese, rind trimmed off and cut into small chunks.
Prepare of olive oil.
You need of salt.
It's of salt and pepper.
Creamy chicken pasta with spinach and bacon is one of my favorite things to eat! After all, it's a very rich and indulgent treat for dinner. The restaurant chicken pasta just doesn't compare to this delicious homemade version with spinach, bacon and tomatoes! This super lush and Creamy Pesto Chicken Pasta is perfect for busy weeknights.
Creamy pesto pasta with camembert bacon and chicken instructions
Cook pasta in boiling water. (Add salt to taste and olive oil to prevent sticking after it's drained).
While pasta is cooking add oil to a separate pan and cook through chicken until tender (season to taste) when it's finished remove to a bowl and set aside, covered with foil..
When pasta is cooked scoop out your reserve water, drain pasta and leave to the side in the colander.
Pre heat oven to 350°F (180c).
Give your pan a good wipe. Re-oil and add bacon, frying until just slightly cooked..
Add onion to the pan and fry until just translucent, then toss in the garlic, give it another minute or so, until everything is done to your liking, then give it a good stir..
Splash in the wine to deglaze the pan, give the bottom a bit of a scrape to bring up the flavors and let it cook off for a bit..
Pour in about 1/3 cup of your reserved water (save the rest if you prefer to thin your sauce out later) mix in your cream and the pesto, stirring to get a good mix..
Return chicken to your pan and give it a good stir..
Now slowly add the pasta, tossing to get a good coat on all the noodles. (you can leave some out if you prefer the dish to be saucier).
Continue cooking over medium heat (with a slight bubble) to let everything cook together. Give it a taste, you'll know when it's ready..
Transfer to a baking dish (or just use your pan if it's oven safe) Then cover the top with little chunks of the camembert cheese..
Pop in the oven for about 10 minutes or until cheese is nice and melted..
When cheese is melted give it a really good stir through so it spreads throughout the dish, then return to the oven for another five minutes or so..
Remove from oven, allow it to cool and then enjoy..
How to make Creamy Chicken Bacon Pesto Pasta. Sauté bacon in a saucepan or medium wok until slightly crispy. Set aside half of the bacon for topping. Toss in cooked pasta until the sauce is evenly distributed. Transfer to a serving platter and top with crispy bacon bits.